About Male Facial Rejuvenation Procedures
In the competitive workplace, an increasing number of business professionals are turning to cosmetic surgery to improve the overall look and feel of their bodies. Male facial rejuvenation consists of cosmetic procedures designed to help men enhance their features. These procedures focus on the appearance of the face and body to create a younger, sharper, more chiseled appearance. Double board-certified and fellowship-trained plastic surgeon Dr. Mark Schoemann is skilled in this highly meticulous, specialized procedure and can provide you with the results you desire. Schedule a consultation at our Encinitas, CA practice, Schoemann Plastic Surgery, for more information.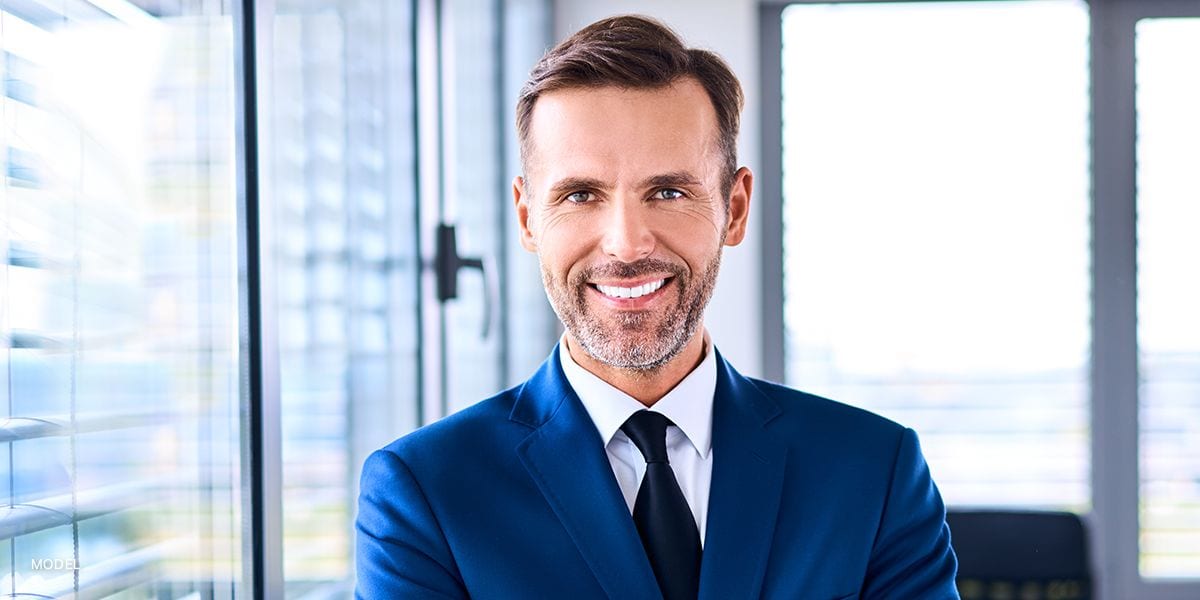 ---
Ideal Candidates
Cosmetic surgery, as well as facial rejuvenation, is not just reserved for women. Men throughout California, especially those who are competing with younger counterparts in the workforce, may seek a cosmetic treatment to give them the edge they need. Our blend of procedures for men improves skin irregularities that can be caused by life (including age, smoking, stress, weight loss), as well as offer a sharper, more chiseled appearance. If you are of a healthy weight and lifestyle and desire an improved, more youthful appearance, you are likely a candidate for male facial rejuvenation procedures.
---
Procedure Technique
During the initial consultation, a tailored procedure plan will be created by Dr. Schoemann to meet your aesthetic goals. Numerous procedures can be combined for male facial rejuvenation. These can range from surgical to nonsurgical:
Wrinkle Relaxers
A wrinkle relaxer, such as BOTOX, helps smooth fine lines and wrinkles that appear on the upper face. They are most commonly used on the forehead and around the eyes.
Wrinkle Fillers
A wrinkle filler is also referred to as an injectable filler. Comprised of various substances ranging from collagen to hyaluronic acid, the primary purpose of a filler is to create additional volume under the skin where volume has been depleted due to age. The result is a smoother surface and a fresher-looking appearance.
Skin Rejuvenation
In addition to injectables, Schoemann Plastic Surgery offers various treatments to help even out the skin tone and reduce the appearance of skin irregularities. Some men may benefit from having a skin resurfacing laser treatment or chemical peel.
Brow Lift Surgery
This surgery lifts the eyebrow to a higher position so that you appear more alert and "awakened." This helps decrease the tired and angry look that droopy eyebrows can cause.
Eyelid Surgery
Hanging skin on the upper eyelid and bulges and bags under the eyes can be treated with eyelid surgery, also known as blepharoplasty. Some men may be candidates for the upper or lower, or in some cases, both.
Rhinoplasty
Rhinoplasty, also known as a nose job or nose reshaping, can create subtle results for men who wish to have a smaller nose or a nose of a different shape.
Chin Augmentation
Some men were born with "weak chins." This can create a profile that may not appear as masculine as they desire. Chin augmentation using a silicone chin implant can create outstanding outcomes for men, resulting in a sharper profile and a more masculine look.
Neck Lift
A neck lift removes loose and hanging skin from the neck to create a tighter appearance. It can result in a younger, sharper look, especially for men who have lost weight.
Neck Liposuction
Sometimes, fat deposits can collect under the chin and into the neck. Liposuction can be used to remove this unwanted fat so that a slimmer neck appearance can be attained.
---
What to Expect
Because of the highly personalized nature of male facial rejuvenation procedures, recovery times can vary drastically. If Dr. Schoemann feels that your desired outcome does not require surgical procedures, you can expect to be fully recovered and enjoy your results in a matter of weeks, while surgical procedures can necessitate 3 – 4 weeks of recovery. All of these factors will be discussed in detail during your consultation at Schoemann Plastic Surgery.
---
Relive Your Youth
Men with younger competition may contemplate cosmetic surgery to create a younger appearance. Depending on what problem areas are being addressed, cosmetic surgery creates subtle results that allow you to look fresh, awake, and alert. Many of our procedures will simply provide that "glow" that many feel they lack.
Meet with Dr. Schoemann for a consultation to find out if male facial rejuvenation procedures can help you meet your aesthetic goals. Contact us today at (760) 487-2520 or by filling out our online form.