As a board-certified, fellowship-trained plastic surgeon who serves the Carlsbad community, Dr. Schoemann is highly sought after by many seeking plastic surgery. He has a reputation among his patients and peers as a compassionate, caring professional who excels in surgical techniques that provide patients with beautiful, natural-looking results. Individualized care is important to Dr. Schoemann, which is why he takes time in a one-on-one setting to develop treatment plans that will meet the specific needs of each patient. He specializes in all types of plastic surgery procedures, so no matter if you want to improve your silhouette with a tummy tuck or breast augmentation, or you want to erase facial signs of aging with a facelift, or you are tired of dealing with stubborn pockets of fat around your thighs, he is the surgeon for you.
Meet North County San Diego's Plastic Surgeon, Dr. Schoemann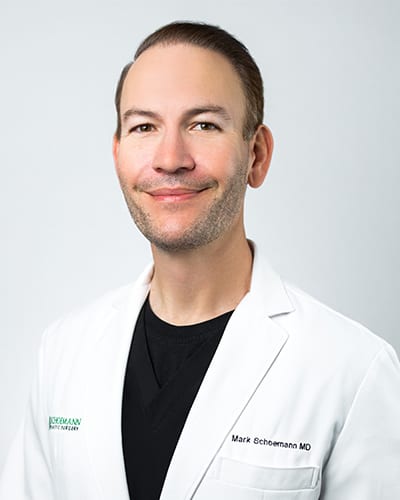 Dr. Schoemann is certified by both the American Board of Surgery and the American Board of Plastic Surgery. In addition, he holds memberships with the Southeastern Society of Plastic Surgeons and the American Society of Plastic Surgeons. His qualifications help him provide patient-first care that prioritizes your safety, comfort, and needs.
Having obtained a highly exceptional education, Dr. Schoemann has gained the training and experience needed to excel in plastic and reconstructive surgeries of the body, face, and hands. Before he began working with adults, Dr. Schoemann performed craniofacial surgery on small children, providing them with life-changing results. Now, anyone who lives and works in Carlsbad, CA can receive these same results thanks to his meticulous skill and understanding of the delicate intricacies of the human body.